Center for Emergency Management and Homeland Security
What's Happening
1 Column False
Risk Management Collaboratory 
Cross-sector Relationships & Operations
Risk and Threat Management
Transformative Risk Reduction Strategies
Disaster Analytics
Hazards Governance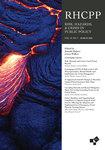 Gall, Melanie, Tamara L. Sheldon, and Larianne Collins. 2022. The economic impact of school closures during the 2015 flood in Richland County, South Carolina. Risk, Hazards & Crisis in Public Policy.
  View all of our Publications
The New First Line of Defense
To make informed decisions about where to live and how to protect housing investments, residents require knowledge about potential natural hazard exposure and impacts along with available mitigation strategies.  This project aims to advance community resilience by improving people's understanding of risks and their willingness to undertake hazard mitigation when choosing where they live.  The project team will work with communities throughout the Gulf region to test strategies for dissemination and uptake of information on disaster risk and mitigation alternatives. The ultimate goal is to identify practices most likely to result in residents taking actions to reduce risk and increase resilience.
Project Period: September 2019 - August 2023